Do not miss the 8th Symposium organized by our innovative partnership IBMA IOBC PAN Europe.
Register now here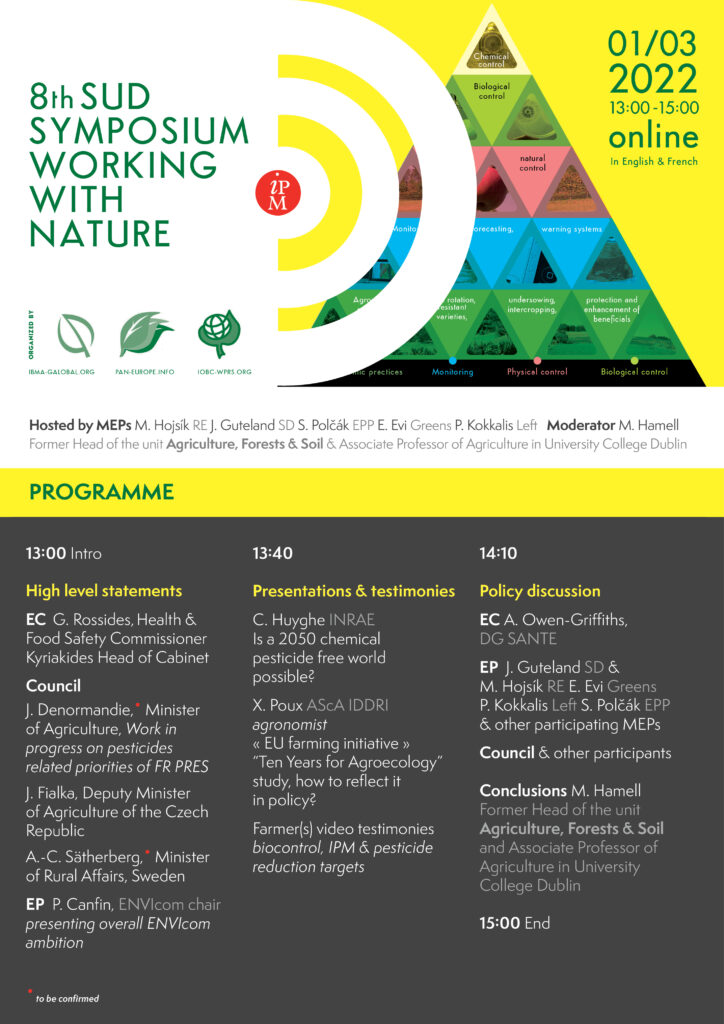 Annual Biocontrol Industry Meeting – ABIM: 19 – 20 October 2021
More than 970 biocontrol industry representatives gather at ABIM in Basel – a strong boost for our nature based solutions. We are looking forward to welcoming you at ABIM 2022!
At the 16th edition of ABIM representatives of the biocontrol industry met from 19-20 October 2021. This worldwide event for the biocontrol industry took place live in Basel again. More than 970 participants from 44 nations were able to network together, face to face, as well as listen to inspiring presentations and panel discussions. Business meetings between delegates and our 71 exhibitors took place throughout the event. Both SME's and large enterprises were well represented. An amazing number of innovations were presented. These are essential tools to facilitate the transformation to a sustainable agriculture.
The programme of ABIM 2021 included a highly attractive journalist-led panel discussion involving biocontrol industry leaders, food processors, NGOs and researchers on how biocontrol will help transform agriculture. COPA President for European Farmers, Christiane Lambert, addressed The role of biocontrol in the transformation of agriculture in her keynote speech. COLEACP underlined the role of biocontrol in Africa, Caribbean and the Pacific countries.
The winning product of the 2021 Bernard Blum Award for Novel Biocontrol Solutions was BioPersi+ Classic/Speed Sachet from BioBee Sde Eliyahu Ltd. In 2nd place was Certis Europe with Problad and in 3rd place was Bee Vectoring Technology with their product Vectorite with CR-7 + Vectorhive. The winner of the new category "Best Innovative product assisting biocontrol uptake" is Bioline Agrosciences' product T-Booster.
The key notes, the panel discussion and the Bernard Blum Award has been broadcast and will be available for download by 1st November 2021.
The slides of the session presentations will available as pdf in the ABIM 2021 archive.
---
UPDATE! Registration is still open. Fewer than 50 delegate registration places remain from a maximum capacity of 1000 live attendees. Please do not plan to register on site. Register online before travelling to Basel.
Get familiar with the travel requirements for Switzerland and complete the entry form 48h before travelling.
To enter the Congress Center please have your Covid-19 certificate and your ID ready.
Registration is still open: https://www.abim.ch/registration.html and you can participate in two ways:
1. Either register and pay to attend the full programme, exhibition and networking as a live delegate.
OR
2. Register as a free virtual guest to participate remotely in the keynote speech, panel debate and Bernard Blum Award ceremony parts of the programme.
Register now to meet up with friends, colleagues and experts within the biocontrol industry for the first time in two years.
Looking forward to meeting you soon!
---
ABIM is only 1 month away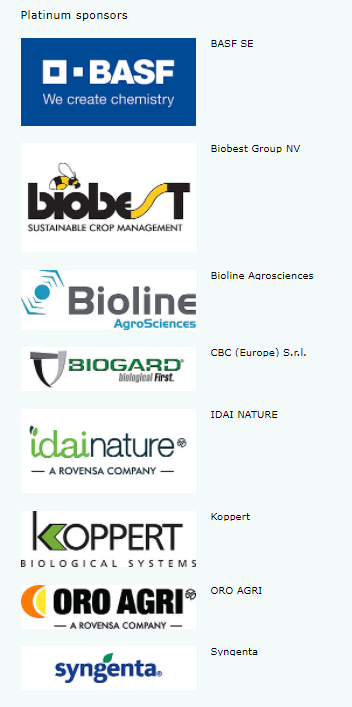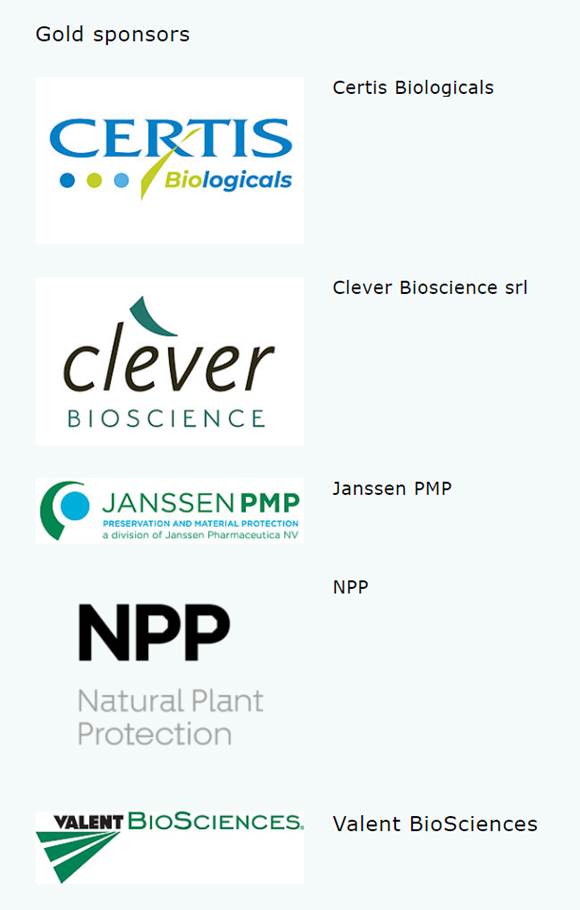 The exiting news is ABIM 2021 will be a live event offering the chance to meet and network with other key players. Be sure to register now to be a part of this important event. There are a limited number of registrations available so make sure you are one of them.
You can participate in two ways:
1. Either register and pay to attend the full programme, exhibition and networking as a live delegate from 19 to 20 October 2021 in Basel (no day passes available)
2. Register as a free virtual guest to participate remotely in the keynote speech, panel discussion and Bernard Blum Award ceremony. These parts of the programme will be live-streamed.
Please note that a Swiss or EU COVID-19 certificate will be required to access the conference, and that we will adhere to strict safety measures to protect our visitors, exhibitors, and staff. Please familiarize yourself with our COVID-19-related health and safety guidelines prior to your visit. Read the COVID-19 guidelines.
Confirm your pre-registration or register now to meet up with friends, colleagues and experts within the biocontrol industry for the first time in two years.
ABIM looks forward to welcoming you to its 2021 conference in Basel.
Don't miss this opportunity – Register now!
---
ABIM 2021 will be a Live Event in Basel!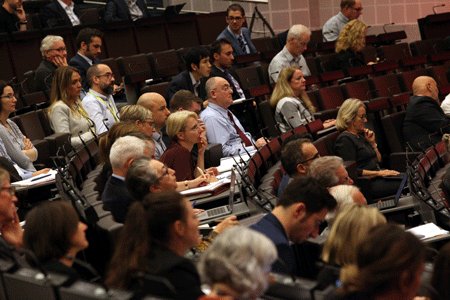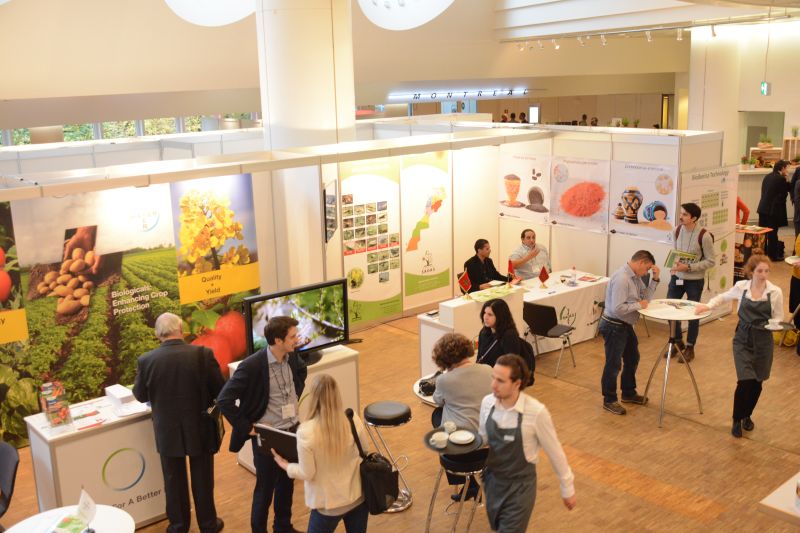 You wanted it, you have it ! In fact, we are very pleased to confirm that ABIM 2021 will go ahead as a live event in Basel on the 19th & 20th October including all networking opportunities and the exhibition.
For pre-registered delegates and exhibitors privileged confirmation of registration and payment of the conference fees will be possible from the 7th September 2021.
Pre-registered IBMA members will receive the discount code from the IBMA secretariat in due time to facilitate the discount.
Registration and payment will open to all on the 17th September 2021 but will remain open only while available places remain.
For those unable to attend the physical conference, free registration for the live-streamed keynote speech, panel discussion and Bernard Blum Award ceremony will also open on 17 September 2021.
---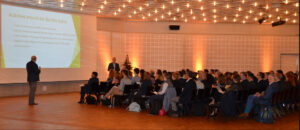 The premier Biocontrol Industry Meeting Place
Registration for delegates is now open!
ABIM 2021 – back again as a live exhibition and networking event. Please note that this is subject to conditions being suitable to hold live trade fairs and exhibitions and sufficient pre-registrations being received by end of booking period.You can see the exciting compact programme which offers something for each and every member of our industry and those interacting with it.
Registration for sponsors and exhibitors was opened first and we are experiencing strong interest from companies wishing to support the event in both forms. The registration for delegates is open from today on for seven weeks only and will close at the end of August. It is available only online in the form of a binding pre-registration.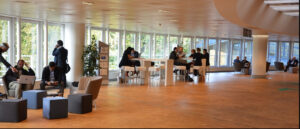 Registrations are accepted on a first-come, first-served basis. It is important that delegates understand that they are committing to attend ABIM this year and will need to complete a pre-registration now and again when the event is confirmed in September as proceeding in the live format. You will not be asked to pay just yet but when you confirm your booking in September. Should it be deemed that due to legal conditions or indeed a lack of confidence from you of being able to attend reflected through a lack of bookings we will transfer your registration to a free TV-style newsreel event which will be livestreamed during ABIM.
Please note that a Covid certificate will be required to access the Congress Center. Only people who can prove that they (1) have been fully vaccinated, (2) have recovered from a Covid infection or (3) have been tested negative will be admitted to the event. Validity of the Covid certificate (last updated on 23 June 2021) means:
For vaccinated people, the administration of the last vaccine dose is within 365 days.
For recovered people, validity starts on the 11th day following the last positive PCR test result and lasts for 180 days from this test result.
For people tested negative, from either a PCR test within 72 hours of the sample being taken or a rapid antigen test within 48 hours of the sample being taken.
As we are operating a short and limited registration period, no early-bird entries are available this year. Additional single day tickets may be made available at a later date.
IBMA members must submit the IBMA discount code when confirming their registration in September. This code will be sent by the IBMA secretariat – to the Members who have paid their fees – and is needed to receive a discount. For all matters related to IBMA Membership, please do not hesitate to contact IBMA Advocacy and Communication Manager Isabelle Pinzauti Babrzynski isabelle.pinzauti@ibma-global.org / 0032 497 69 58 42
For all other matters please contact ABIM Conference Secretaries Anne Merz and Roberta Turoldo Kyburz conference@abim.ch
The ABIM Executive Board encourages you to book your transport and accommodation on a fully changeable or refundable basis should we be unable to go ahead with the event.
---
ABIM 2021 promises to live up to the well-deserved title of ABIM – The Biocontrol Industry Meeting Place.
We plan to host ABIM 2021 as one of the first events to go back to a live format. We have a new television style newsreel event being shown live over the days of ABIM and available for download afterwards featuring informative video clips, a highly interesting keynote speaker, panel discussions on three relevant industry topics. For ABIM 2021 we have many new features including a freshly launched new website. We will be keeping the sponsors, exhibitors and delegates well informed as we want ABIM 2021 to be a safe event to attend and to create an atmosphere to encourage the networking ABIM is famous for. There are several things we are doing to ensure this:
We are keeping connected to government advice and liaising with the Congress Center Basel regularly.
The number of exhibition stands is limited and available on a first come first served basis. The size and type of stand will be a single standard booth enabling us to move the stands and reconfigure the exhibition area as needed to ensure a safe compliant event.
ABIM 2021 will be a 2-day event on Tuesday 19th and Wednesday 20th October. This enables you to travel on the Monday.
The main priority for ABIM 2021 will be to host a concurrent live networking event and an international TV-style newsreel for the industry and for reaching relevant key partners.
Sponsors can arrange their sponsorship from now on: Sponsor registration
Exhibitors can book a booth at ABIM 2021 now and will not be invoiced until we get the full go ahead: Exhibitor registration
Delegates will have a short sharp booking period from mid-July to the end of August to book a place at live ABIM.
---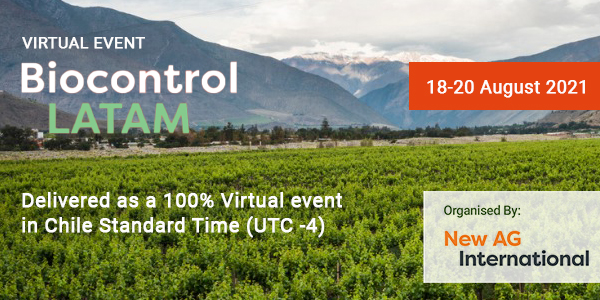 Biocontrol LATAM, August 18-20, 2021 – Virtual event
Biocontrol LATAM 2021 will take place as a 100% virtual event on the 18th – 20th August 2021! This year's event provides a platform for the Agronomists, Scientists, Regulatory Experts, and All Those Involved In Optimising Sustainable Crop Yields and Quality to exchange ideas in real-time with an expert speaker lineup. And it's FREE TO ATTEND.
During the Biocontrol Latam Virtual Event, critical points for developing biocontrol products and placing them on the market in Latam will be addressing. Regulation, market access, as well as the latest technical innovations within research and development will be covered. There will be a variety of sessions, some in Spanish, some English, and some in Portuguese to offer inclusion for many!
---

8th SUD Symposium: Going Local, Nitra, Slovakia – Postponed until further notice due to COVID crisis
Our SUD Symposium is going local !
Soon in 2021, come discuss with us on how to reduce pesticide dependency at the Slovakian Agriculture University in Nitra.
At a time when its contribution to climate change and biodiversity collapse cannot be neglected, while farmers do not manage to get sufficient income from their work, agriculture urgently needs to change.
From EU policies and regulations to on-field agronomic practices and alternatives technologies, our speakers will present solutions to effectively reduce pesticides use for a safer agriculture, both for environment and our health, and which can provide a more stable future for farmers.
See the provisional programme here.
To register to the event, click here.
---
Biocontrol Africa, Marrakesh, Morocco – 28th – 30th September 2020
Please note that this event has been postponed to 28th-30th September 2021
---
Past Events
ICBC2, Second International Congress of Biological Control, 26th-30th April 2021, Davos, Switzerland
17th Congress of the Mediterranean Phytopathological Union: "Safeguarding Mediterranean Plant Health", 20th-22nd April 2021, Pyrgos, Cyprus
CropLife Europe conference Sustainable solutions to protect crops, March 09th-11th 2021
BioAG World Congress, 15th-17th March 2021, Virtual
Forum for the Future of Agriculture's (FFA) Solutions Week, Policy Week and Annual conference spread between March 8th and 23rd
BioFach 2021, 17th-19th February 2021, Virtual
IBMA and Copa-Cogeca Workshop – Biocontrol technologies in the current and future farmers' toolbox
IBMA and Copa-Cogeca Workshop – Biocontrol technologies in the current and future farmers' toolbox
Presentations links within the Programme here below
Introductory Remarks
Mr Pekka Pesonen, Secretary General of Copa and Cogeca
Ms Jennifer Lewis, Executive Director of IBMA
DG SANTE. State of play of the work of DG SANTE on biocontrol solutions for agriculture. Eric Liegeois, Unit E.4 – Pesticides and Biocides
DG AGRI – State of play of the work of DG AGRI on biocontrol solutions for agriculture. Niall Gerlitz, Unit D.2 – Greening and Cross Compliance
"Work of the Phytosanitary Questions Working Group in Copa and Cogeca and Project ALAS". Pedro Gallardo, Chair of the Phytosanitary Questions Working Group in Copa and Cogeca – tbc
How farmers' apply Biocontrol Technologies? Practical examples
Farmers' Panel and Q&A. Moderator: Copa and Cogeca (Luc Peeters, ex Chair of the Phytosanitary Questions Working Group)
Contrat de Solutions – presentation on current work of the platform on biocontrol solutions in France. Clémence Decherf, Regulatory Affairs Specialist, Certis Europe.
How research works for Biocontrol Technologies?
IBMA Presentation – Biocontrol Technologies Current Situation by Jennifer Lewis, IBMA Executive Director
Research Panel and Q&A – Moderator: IBMA (Sylvia Plak, President)
Final remarks and conclusions of the Workshop (Sylvia Plak from IBMA and Luc Peeters from Copa and Cogeca)
7th SUD Symposium 2019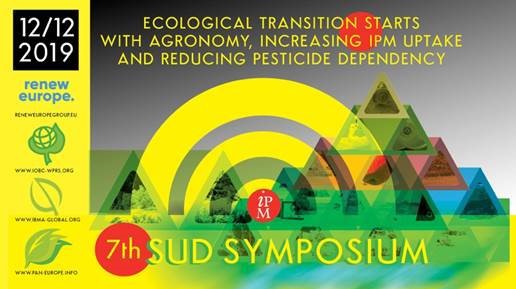 7th SUD SYMPOSIUM
12th December 2019, Brussels, Belgium
Who: This Symposium will be hosted by MEPs Martin Hojsik and Fredrick Federley (Renew Europe)
When: December 12th 2019, 9.00 to 13.00 with Welcome Coffee at 8.30
Where: at the European Parliament, room number PHS 5B1
Simultaneous interpretation: EN, IT, FR
SPEAKERS PRESENTATIONS
Which policy and technical tools will be offered in France to ensure the ecological transition by Florence Jacquet, Research Director in the French National Research Agency (INRA)

Desired compliance or business opportunity: How to frame the ecological transition in farming? by Erik Mathijs, Professor of Agricultural and Resource Economics, University of Leuven, Belgium

Designing policy instruments for ecological transition: The importance of understanding farmers' motivation and decision styles by Helle Ørsted Nielsen, Department of Environmental Science, University of Aarhus, Denmark

Presentation by PAN Europe, Henriette Christensen

Presentation by IBMA Executive Director Jennifer Lewis
Farmers experience in the uptake of alternatives to fungicides
The use of alternatives in fighting fungal diseases in vine grapes, Alex Valsecchi, UK farmer

The use of alternatives to fighting fungal diseases in rice, Paolo Mosca, Italian farmer

The use of alternatives to fighting fungal diseases in arables, Jean-Francois Monod, French farmer

ORGANISATORS
Who are we? An innovative partnership consisting of:
International Organisation for Biological Control (IOBC/WPRS) is an International Organisation of progressive European researchers and other knowledgeable people investigating the use of sustainable, environmentally safe, economically feasible, socially acceptable control methods of pests and diseases of agricultural crops. IOBC/WPRS fosters research and practical application, training and information exchange, especially of all methods including biological control as part of integrated pest management. IOBC/WPRS produces guidelines for integrated production of agricultural crops, collaborates with different stakeholders to develop sustainable agricultural production systems and standardises methods of testing effects of pesticides on beneficial species, with the aim to foster biodiversity and ecological services as a natural resource.
International Biocontrol Manufacturer Association (IBMA) is the association of biocontrol industries producing solutions: microorganisms, macroorganisms, semiochemicals and natural substances. Based on long years of intensive research and development, the "Biocontrol industry" is now growing fast and can offer safe and cost- effective technologies to the entire food chain. IBMA was created in 1995 to represent the views of the developing biocontrol technologies manufacturers, which are mainly SME's with limited resources, research organisations, extension services, consultants, distributors, contributing to the development of biocontrol and participating in IBMA activities.
Pesticide Action Network (PAN) Europe is a Brussels based NGO working to minimise negative effects and replace the use of hazardous chemicals with ecologically sound alternatives. Our network brings together public health, and environmental organisations and women's groups from across Europe. We work to eliminate dependency on chemical pesticides and to support safe sustainable pest control methods.
ABIM 2019, 21-23 October 2019, Basel, Switzerland
Biocontrol Asia, 23-25 September 2019, Chengdu, China
Register now for Biocontrol Asia 2019 !
23-25 September 2019, Chengdu, China
Biocontrol Latam 28-30 August 2019, Campinas, Brasil
ABIM 2018, Basel, Switzerland, 22nd to 24th October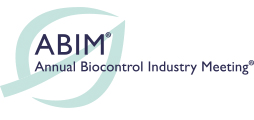 As an unrivalled meeting place for the biocontrol industry, ABIM is internationally recognised as the venue at which to discover and unveil new products, to discuss market opportunities, to present new research, to learn about the latest regulatory situation and to liaise with fellow professionals from all over the world.
During the three days of the 2017 conference, a record number of 1046 delegates from 54 countries representing 511 companies and organisations from all over the globe were present and exchanged experiences and obtained information on the latest products and developments on the world market.
For IBMA Members, in order to take advantage of the special reduced rate, only available until the 12th July, please contact Isabelle Pinzauti Babrzyński. For any logistics question, please contact , ABIM Conference Secretary.
Biocontrol LATAM, Colombia, 14th to 16th November 2018
EARLY BIRD FEE, AVAILABLE UNTIL THE 27TH JULY ONLY
TOPICS to be covered by top LATAM and INTERNATIONAL SPEAKERS:
• Global Biocontrol Market
• Market for Biocontrol in LATAM
• Main trends in the LATAM industry
• Biocontrol Regulatory in LATAM
• Biocontrol as a business – adoption by growers and distributors
• Biocontrol and biostimulants: going together in LATAM?
• Biologicals Production and Formulation
• Emerging technologies in microbials, natural extracts and semiochemicals
The conferences will feature speakers from academic, government and industry circles, whose aim will be to promote products and technologies that fit LATAM conditions.
The Call for Papers deadline is on the 20th July.
For all the latest information on the Conference visit: www.biocontrollatam.com
Biocontrol Africa, 19th-20th March 2018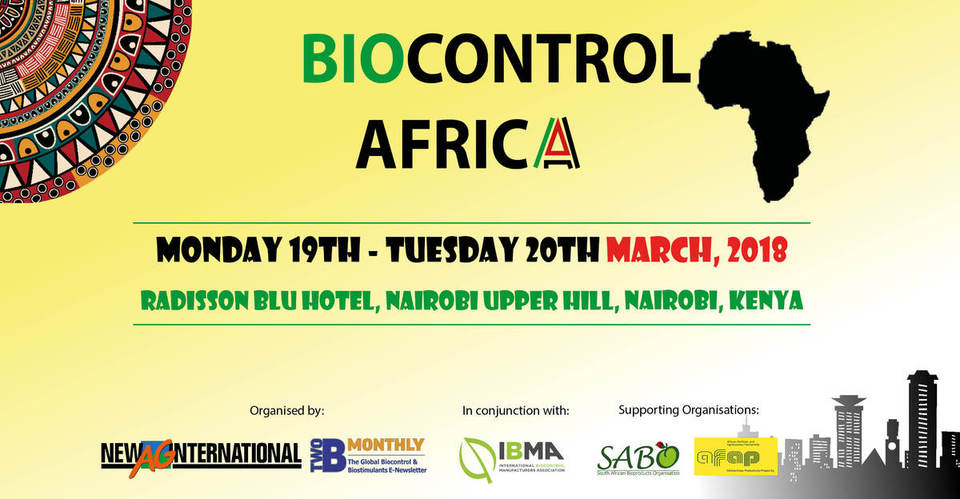 Biocontrol Africa, 19th-20th March 2018
Following several successful Biocontrol conferences in India, Asia and LATAM this meeting organised by New Ag International and 2BMonthly, in conjunction with IBMA, and with the Support of AFAP and SABO will be held in Nairobi, Kenya in 19th-20th March 2018.
The scope of the Biocontrol Africa Conference covers microbials, plant extracts, biochemicals, macro-organisms and semiochemicals and related biocontrol technology, discovery and development as well as key factors to the successful development, use and integration of these biologicals into commercial pest management systems. Special attention will be given to abstracts covering regional subjects about biocontrol technology development and use in Africa.
For further information, including the programme, please see below
and visit https://www.newaginternational.com
=======================================================================
IBMA Members benefit from discount registration fees !
Please use the following form to register as an IBMA Member only:
Non-IBMA members may register here.
=======================================================================
6th SUD Symposium – Integrated Pest Management – Working with Nature in arable crops – Discover the presentations, the conclusions and watch it on Youtube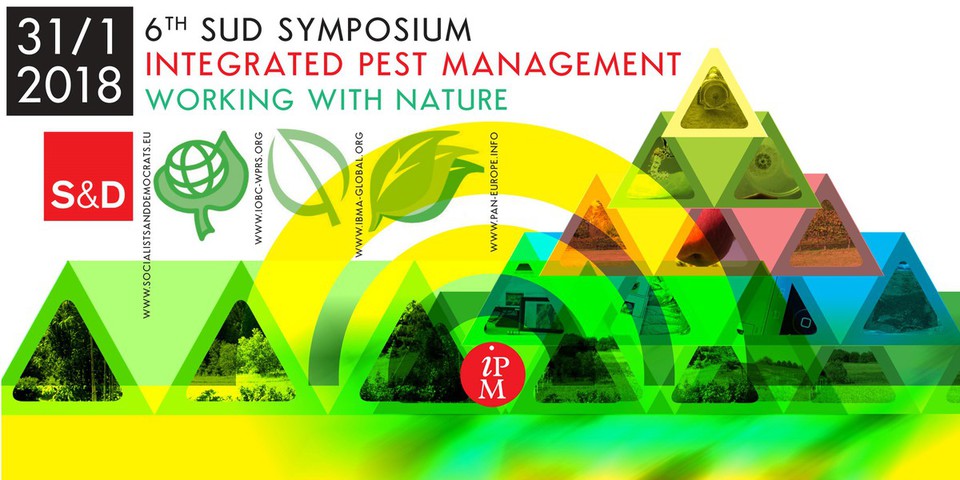 6th SUD Symposium – Integrated Pest Management – Working with Nature in arable crops
IBMA, IOBC and PAN Europe are pleased to inform you that their 6th SUD Symposium – Integrated Pest Management – Working with Nature has taken place in the European Parliament, Brussels, on Wednesday 31st January 2018 from 15.15 to 19.00.
IPM supports a large tool box for farmers, offering them all the possible alternatives from agronomic practices to chemicals as a last resort, not forgetting about biological control methods and monitoring produced by IBMA producers.
This year the symposium focussed on the solutions for arable crops.
Watch it on IBMA Youtube Channel (available in English and French).
And the Conclusions here
Presentations given at the Symposium:
Sole responsibility for the presentations' content lies with the authors and speakers. Their views are not necessarily shared by the co-organizers.
ABIM, 23 October – 25 October 2017, Basel, Switzerland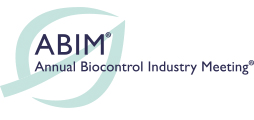 ABIM, 23 October – 25 October 2017, Basel, Switzerland
ABIM is the premier global meeting for the biocontrol industry and is internationally recognised as the global platform for the industry to network, discover and unveil new products, market opportunities and research areas. But as well as promoting biocontrol and networking it is the platform to liaise with and inform policy makers and regulators of the specific needs of our unique growth industry.
IBMA AGM 2017
All IBMA members are welcome to join IBMA Annual General Meeting in Basel on Monday 23rd October afternoon.
Biocontrols Mexico Conference & Expo, 14 -15 September 2017
Biocontrols Mexico Conference & Expo
14th -15th September 2017 • Hilton Guadalajara, JAL • Mexico
Producers, consultants, experts, manufacturers and suppliers met in Mexico on the 14th and 15th of September 2017 for two days of presentations and trade shows showing the latest developments in biological tools and techniques specific to specialty crop growers in Mexico.
The conference was organized by Meister Media Worldwide. Further information and the programme can be found on the event website. Please click here for further information.
Biocontrol Asia, 6-7 June 2017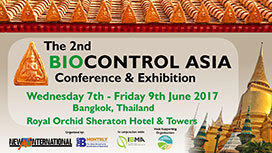 Biocontrol Asia, 6-7 June 2017
New Ag International & 2BMonthly joined forces again with IBMA to organize the 2nd Biocontrol Asia Conference & Exhibition.
It took place in the vibrant city of Bangkok, from Wednesday 7th to Friday 9th June 2017. More than 300 delegates from the whole Asia-Pacific region and Oceania gathered to discuss the future of biopesticides in the big and smaller markets of the region.
Read more about the event here.
IBMA at GFIA Europe, 9-10 May 2017
9th and 10th May, Utrecht, The Netherlands
This year, IBMA decided to participate to the world's largest dedicated expo of sustainable agriculture solutions.
IBMA Executive Director David Cary gave a presentation on How do we efficiently move from traditional crop protection to an integrated biological platform? as well as aTedx Talk on What is the overall potential? What are the latest developments and implications with biologicals approaches?
IBMA and Copa-Cogeca Workshop on Bacillus cereus, 28 March 2017
IBMA, in collaboration with Copa-Cogeca, the European Farmers and European agri-cooperatives association, organized a one-day workshop to explore the implications of Bacillus cereus relating to the recent EFSA opinion on the safety microbial pesticides.
The purpose of the workshop was to inform about this important topic, demonstrate the safety of products and provide an open dialogue on this essential issue.
It was in attendance of the key food companies, food labs, biocontrol manufacturers, grower organizations, and member state representatives.
Read more on this event and find the presentations here.
5th SUD Symposium: Unlocking the IPM triangle – Using Green tools 1st, 7 February 2017
IBMA, IOBC and PAN Europe organised the 5th SUD Symposium: Unlocking the IPM triangle – Using Green tools 1st in the European Parliament, Brussels on Tuesday 7th February 2017.
The symposium focused on solutions for grapes and vineyards.
Read more about the symposiums and find the presentations here.
4th Symposium "Feeding Europe while reducing pesticide dependency", 19 November 2016
Hosted by: Pavel Poc, Member of the European Parliament
Conclusions by Chairman Michael Hamell

The 4th edition of the Symposium, co-organized by Euro Coop, Greenpeace, IBMA, IOBC-WPRS and PAN Europe, took place on 19th November 2016.
Experts shared their experience on the growing demand and market for non-chemical tools as alternatives to pesticides in pest management. Farmers, scientists, industry, NGOs and co-operative retailers will present insights and ways forward to significantly reduce pesticide dependency.
The symposium also addressed the economic opportunities that reducing pesticide dependency provides, and presented concrete and promising changes to move from intensive apple production to sustainable apple growing.
Participants discussed the progress and limitations of Member States' implementation of the EU Directive on Sustainable Use of Pesticides (SUPD; EC/128/2009).
Find the presentations and speakers' biographies here.
Biocontrol LATAM, 15-17 November 2016
The 3 day meeting featured selected presentations on key current Biocontrol topics delivered by world renowned speakers/organisations.
More information on this event.
ECPA-IBMA workshop – EFSA role in evaluation of PPPs, 7-8 June 2016
IBMA and ECPA (the European Crop Protection Association) organized a joint workshop in Parma, Italy, to discuss key developments in EFSA's work related to the evaluation of active substances as well as scientific and new guidance development.
Read more about the event here.
BPIA – Second International Biocontrol Industry Symposium, 1-2 March 2016
Our sister organisation BPIA organized a Symposium on the 1sr and 2nd March 2016 in Monterrey, California USA.
These is the list of the presentations done during this event
Biopesticides in the U.S.: Past, Present and Future, Jim Jones (USEPA)
EU & US Regulatory Harmonization Efforts on Bicontrol Agents: Learning by Doing, Luuk van Duijn (CTGB)
Minor Uses a Place for Biocontrol Solutions, Jeroen Meeussen (OECD-BPSG)
BioProtection Global Update: activities with IGOs and NGOs, Willem Ravensberg (IBMA)
A Brief Update of Biological Control in Brasil, Pedro Faria, Jr. (ABC Bio)
South African Initiative, Andre Fox (SABO)
The Toothpick Method: Biocontrol of Striga in Kenya for Smallholder Farmers, David Sands (Montana State University)
Macro Organisms Market Update, Lynn LeBeck (ANBP)
Global Biologicals Market Update , Bill Dunham (Dunham Trimmer)
Strengthening Markets through Formulation, Application and Evaluation Technology, Luis A. Mazariegos (LAM International Corp)
Ensuring Consistency of Key Message Points Across the BPG, Ashish Malik (Bayer Crop Science division)
Biostimulants Update, Prem Warrior (Valagro Corp)
Biotechnology Products: A Global Report, Xiomara Sinisterra-Hunter (AgTec)
2015 iFresh Asian Fruit & Vegetable Industry Summit, 26-27 May 2015
Shanghai Everbright International Hotel
2015 iFresh Asian Fruit and Vegetable Industry Summit will carry out deep discussion and share experience within industry around current hot topics like development of new products for import and export, package and operation of own brand, case analysis of O2O business model, channel expansion of direct picking and selling in place of origin, sharing of agricultural capital operation mode, efficiency promotion of package and distribution, postharvest and deep processing technology of fruit and vegetable.
It aims at open the import and export trade channel, expand distribution channel in mainland, promote own brand and improve additional value of high quality products.
Read more on our news page.
Biocontrol Asia, 17-18 March 2015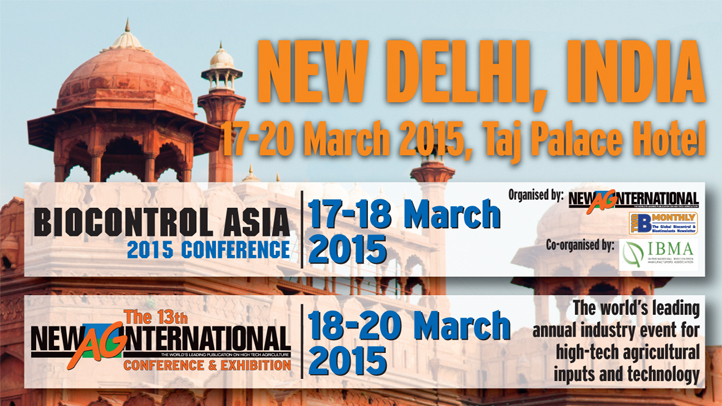 17th and 18th of March in New Delhi, India –only for the members of biocontrol industries associations- ; followed by the 13th NewAG International until the 20th March.
All information available here.
The 1st International Biocontrol industry symposium and workshop, 3 March 2015

On the 3rd of March in Fresno,California, USA. This event is open to all members of biopesticide/biocontrol associations.
It will be directly followed by the Bioncontrols 2015 conference and tradeshow. This event is open to the general public, mainly distributors and advisers.
All information available here.
IBMA at Fruit Logistica, 4-5 February 2015
IBMA was present at Fruit Logistica in Berlin between the 4th and the 5th February for the sixth time in its history.
Symposium Feeding Europe with less pesticides, 4 November 2014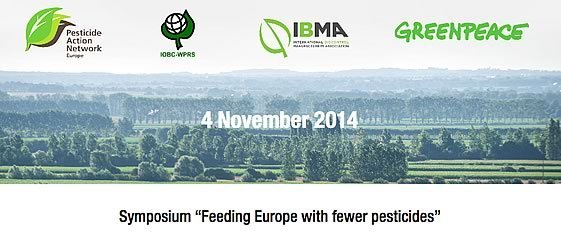 9.00 – 13.00, European Parliament, room ASP 5E1
09.00 – Welcome by Benedek Jávor, Vice-chair of the ENVI Committee
09.05 – Welcome by Michael Hamell, Professor of Agriculture, University College Dublin
09.15 – What is being done on pesticide related issues during the Italian Presidency, Silvia Nicoli, Agricultural Expert from the Permanent Representation of Italy
09.20 – Pesticides and retailers: the Euro Coop perspective and the Coop Denmark case study – Rosita Zilli (Euro Coop) and Malene Teller Blume (Coop Denmark)
09.35 – Pesticide impacts and alternatives – A scientific perspective – Kirsten Thompson (Scientist, Greenpeace Research Laboratories)
09.45 – Integrated pest management: the future is already here by Ilaria Pertot and Andrea Lucchi (Vice Presidents of IOBC-wprs)
10.00 – A serious implementation of the EU Directive on Sustainable Use of Pesticides (SUDP), ways forward – Henriette Christensen and David Cary (PAN and Executive Director, IBMA)
10.15 – 10.30 – Break
10.30 -11.40 – Success stories about farmers reducing pesticide use
Mauro Varner, Cantine Mezzacorona (Viticulture advisor)
August Jost (Maize grower from Austria)
Felix Wäckers (Professor, Lancaster University, Director R&D Biobest)
Erich Stekovics (Vegetable grower from Austria)
Questions and debate with David Baldock (IEEP), Noa Simon (Utrecht University), Pavel Poc (MEP, Vice chair of ENVI Committee), Herbert Dorfmann (MEP) and Marco Zullo (MEP)
11.40 – 12.50 Ways forward to reduce pesticide use in the EU
What is European Commission SANCO doing to implement the SUDP by Ladislav Miko (Acting Director General, European Commission, DG Sanco)
How can the Common Agricultural Policy, especially the Farm Advisory Service, help implementa­tion of SUDP by Joost Korte (Deputy Director General, European Commission, DG Agri)
Panel discussions with David Baldock (IEEP), Michael Hamell (University College Dublin), Pavel Poc (MEP, Vice-chair of ENVI Committee), Nicola Caputo (MEP) and Karin Kadenbach (MEP)
12.50 – Conclusion by Michael Hamell
Feeding Europe with less pesticides, 5 December 2013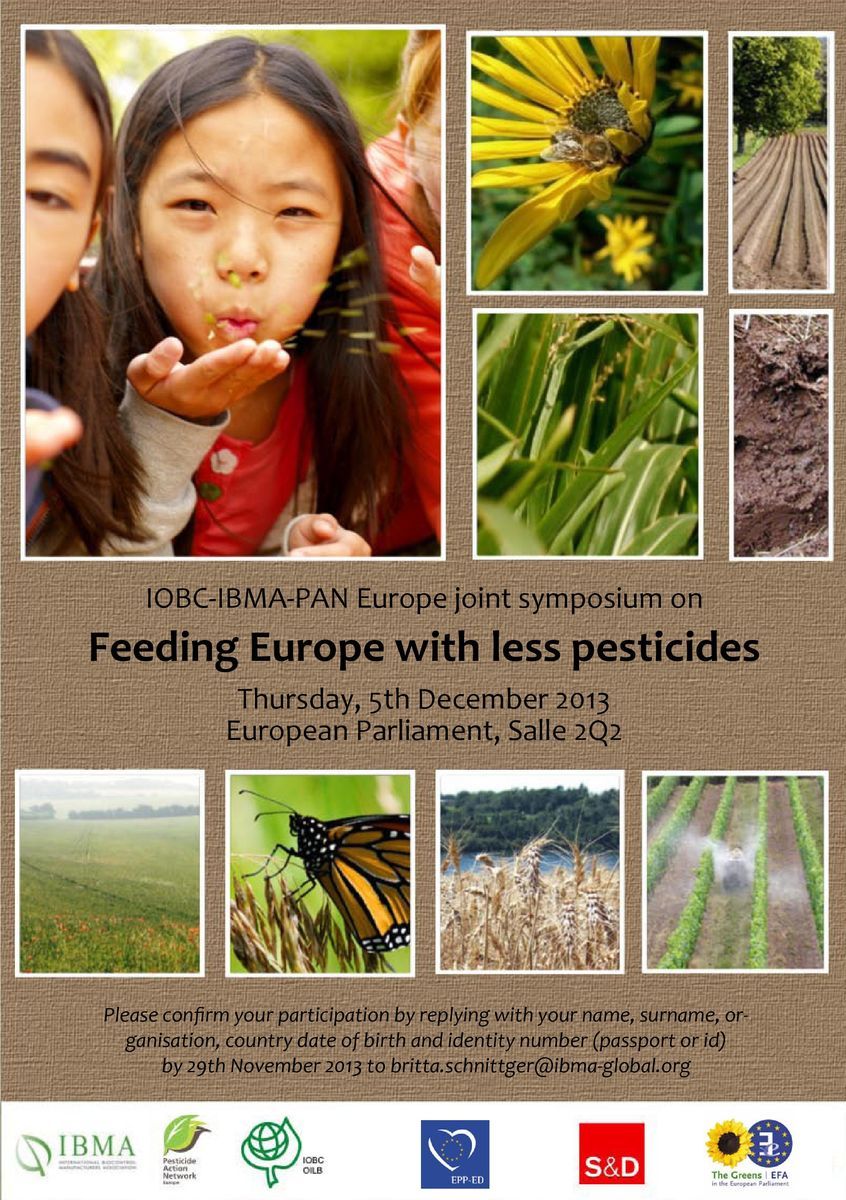 5 December 2013. IBMA-PAN Europe joint symposium on Feeding Europe with less pesticides', hosted by MEP Kadenbach, MEP Pietikainen and MEP Staes. View Invitation, Programme,Conclusions, Short Biographies of the Presenting Speakers and the list of participants.
Chaired by Michael Hamell, Adjunct Professor of Agriculture, University College Dublin
09.00 Welcome – by the co-hosting MEPs Bart Staes, Sirpa Pietikäinen and Karin Kadenbach.
9.50-11.30 The potential of IPM
How much does conversion to Integrated Pest Management cost farmers – INRA studies of farmers groupsby Bertrand Omon, DEPHY ECOPHYTO –(Chambre d'Agriculture Eure)
From pesticide addiction to ecologically based Integrated Pest Management by Joop van Lenteren, (IOBC International)
How far has the EU come in the conversion to IPM Potential and obstacles to the further development of alternatives to pesticides by Karel Bolckmans (IBMA)
Roundtable debate with speakers and: Anne Glover, (Chief Scientific Adviser to the President of the European Commission.), Francois Veillerette (PAN Europe), David Gee (Former Science/Policy Adviser, EEA), Frank Wijnands (IOBC)
11.30-13.00 Which EU policies promote IPM?
The reform of the Common Agricultural Policy: a move towards integrated production? by Alina Ujapan, member of the cabinet of Commissioner Ciolos
The EU debate on resource efficiency: a move towards integrated production? by Natalie Pauwels, member of cabinet of Commissioner Potocnik
How to ensure that Member States meet their IPM targets set in the Sustainable Use of Pesticides Directive? Michael Flüh, Head of Unit Pesticides DG SANCO
Roundtable debate with speakers and: José Bové, (MEP), David Baldock (IEEP), Ralf-Udo Ehlers (IBMA)
13.00-14.30 Lunch and exhibition sponsored by IBMA
14.30 What is the Role of Certification Schemes? by David Baldock (IEEP)
15.00-16.30 Highways and Byways towards IPM innovation?
Are member states engaging in the needed conversion towards IPM? by Francois Veillerette (PAN Europe)
How Swiss government and Swiss farmers are engaging in crop rotation by Franz Bigler (IOBC)
Anticipated Biocontrol regulatory submissions and issues experienced from the IBMA Members Regulatory Survey – by David Cary (IBMA)
Roundtable debate with speakers and Patrizia Pitton, (DG SANCO), Giuseppe Ciotti (Director General Rural Development, Italian Ministry)
16.30-17.45 How are partners engaging in the move towards IPM – agricultural innovations.
The potential role of biocontrol centres by Margareta Hökeberg (The Swedish Centre for Biological Control, SLU)
Innovations in practice replacing chemicals in crop protection and influencing IPM goal – by Kenneth Alness (Lantmännen BioAgri AB)
Chemical company initiatives – by Matthias von Erffa (Bayer Crop Science)
Roundtable debate with speakers and Iman Boot, (DG AGRI, European Commission), Luc Peeters (COPA-COGECA), Henriette Christensen (PAN Europe), Felix Wäckers (IBMA)
17.45 Conclusion: 'Is there a limit to growth of pesticides?'
18.00 Close