The benefits of being a member of IBMA – Membership Application
As a member of IBMA, the membership will provide you with the opportunity to meet other enterprises specialised in Biocontrol, which enables knowledge, best practices, and business development information sharing.
Indeed, IBMA members are welcome and encouraged to participate in Promotion of the Biocontrol market (in close collaboration with IOBC). Members can collaborate to provide business assistance to fellow members, concerning development and implementation of joint strategies, share their knowledge for access to international funds and grants, …
As a member of IBMA, we will keep you updated of the various international events we arrange, promote, and participate in. We will also allow you to post job offers on our website.
Our association consists of an extensive variety of stakeholders. We gather multinationals as well as small companies with limited resources (including start-ups, research organisations, extension services, consultants, distributors). Our members are located in all parts of the globe (Europe, USA, India, New Zealand etc.).
See below IBMA Members Benefits:
Become a member to:
Participate in Professional Groups
Participate in Working Groups
Contribute to impact and shape our industry
Comment on new legislation
Showcase successful biocontrol examples
Attend exclusive training webinars
Receive consolidated industry market research
Receive analysis and reports to support advocacy points
Develop your network
Post job offers on our website
and many more…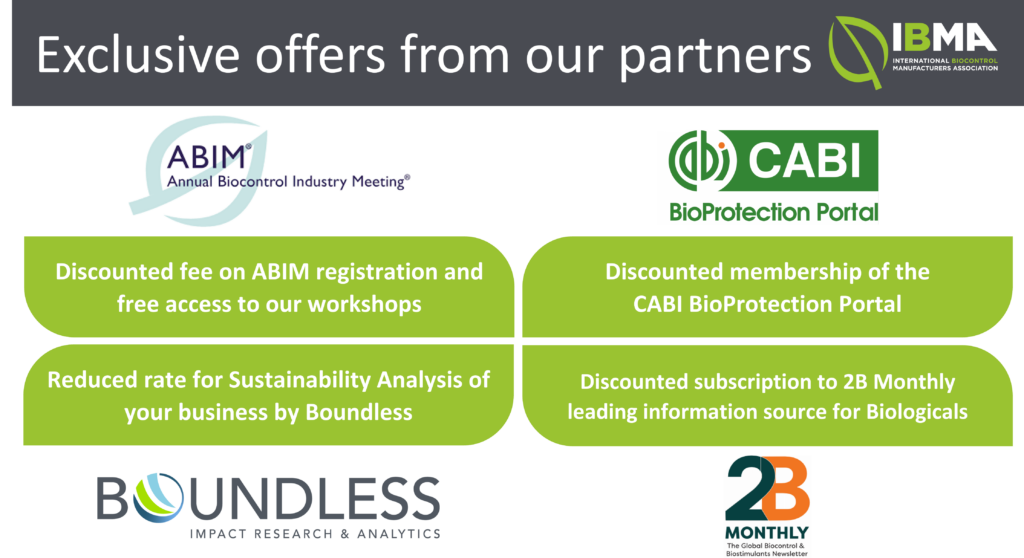 The membership application can take from 15 days to 6 weeks to be finalised.
If interested, please refer to the Membership Application Form to be downloaded below.
Additional Information
FAO International Code of Conduct on Pesticide Management