Macrobials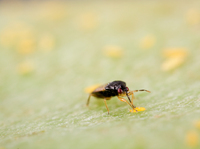 Producers of beneficial insects, mites and entomopathogenic nematodes
Main topics:
Promote IBCA's as sustainable solutions for crop protection in a wide range of crop
Promote reasonable and harmonized regulation of IBCA's
Provide input to the EC on regulations relevant to IBCA's
Address scientific issues together with experts to anticipate future regulation
Support national groups on IBCA regulation and other issues
Steering group:
Chair: Caroline Reid, Bioline Agrosciences, creid@biolineagrosciences.com 
Vice-Chair:
Martin Wohlfarter mwohlfarter@koppert.nl
Patrick Frettinger, Patrick.frettinger@BASF.com
Michaela Stolz, michaela.stolz@biohelp.at
Enric Vila, evila@agrobio.es
ABIM 2019 – IBCA PG update at 2019 AGM
Position paper on the interpretation of 'native' in invertebrate biocontrol agent regulations
IBMA member companies produce a broad range of solutions for the biological control of pests and diseases. These products provide economically competitive alternatives to the use of Plant Protection Products, and as such generate considerable ecological benefits. As an ecologically responsible industry it is obviously vital to us that our products have low environmental impact. For this reason, IBMA has engaged early-on with academic experts in the field of biocontrol to pro-actively develop stringent guidelines for ecological impact assessment of non-native species. These guidelines were published as EPPO standards PM 6/1(1) First import of exotic biological control agents for research under contained conditions and PM 6/2(2) Import and release of non-indigenous biological control agents. Our industry has complied with these standards to warrant the ecological safety of our natural pest control solutions. We only produce and market natural species, using material for our rearing as it has been collected from nature. Our industry has an excellent record in providing environmentally benign and acceptable solutions for crop protection. By providing alternatives for registered plant protection products, important ecological benefits have been realized.