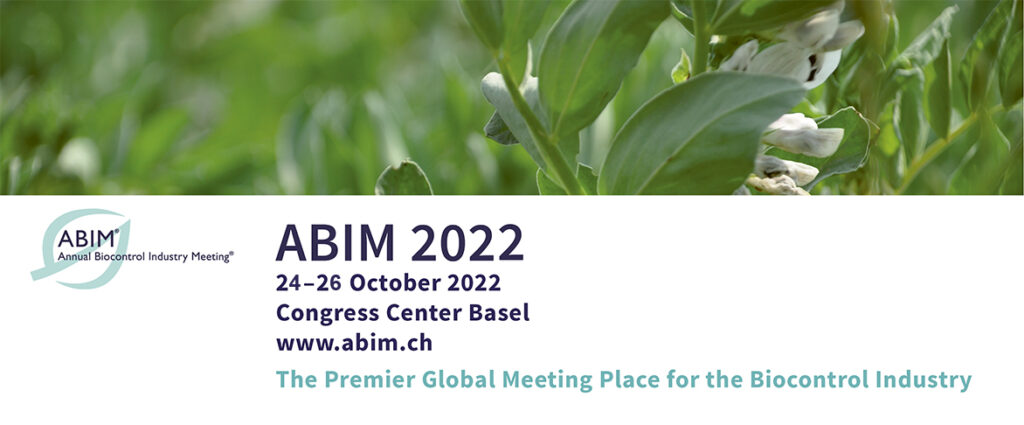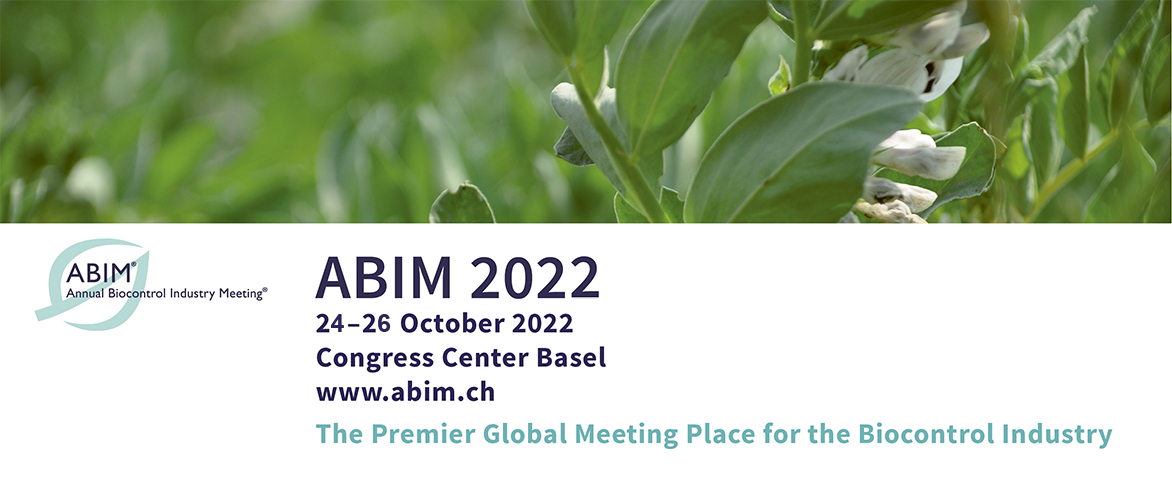 Annual Biocontrol Industry Meeting – ABIM: 19th and 20th October 2021
More than 970 biocontrol industry representatives gather at ABIM in Basel – a strong boost for our nature based solutions. We are looking forward to welcoming you at ABIM 2022!

At the 16th edition of ABIM representatives of the biocontrol industry met from 19-20 October 2021. This worldwide event for the biocontrol industry took place live in Basel again. More than 970 participants from 44 nations were able to network together, face to face, as well as listen to inspiring presentations and panel discussions. Business meetings between delegates and our 71 exhibitors took place throughout the event. Both SME's and large enterprises were well represented. An amazing number of innovations were presented. These are essential tools to facilitate the transformation to a sustainable agriculture.
The programme of ABIM 2021 included a highly attractive journalist-led panel discussion involving biocontrol industry leaders, food processors, NGOs and researchers on how biocontrol will help transform agriculture. COPA President for European Farmers, Christiane Lambert, addressed The role of biocontrol in the transformation of agriculture in her keynote speech. COLEACP underlined the role of biocontrol in Africa, Caribbean and the Pacific countries.
The winning product of the 2021 Bernard Blum Award for Novel Biocontrol Solutions was BioPersi+ Classic/Speed Sachet from BioBee Sde Eliyahu Ltd. In 2nd place was Certis Europe with Problad and in 3rd place was Bee Vectoring Technology with their product Vectorite with CR-7 + Vectorhive. The winner of the new category "Best Innovative product assisting biocontrol uptake" is Bioline Agrosciences' product T-Booster.
The key notes, the panel discussion and the Bernard Blum Award has been broadcast and will be available for download by 1st November 2021.
The slides of the session presentations will available as pdf in the ABIM 2021 archive.
---
UPDATE! Registration is still open. Fewer than 50 delegate registration places remain from a maximum capacity of 1000 live attendees. Please do not plan to register on site. Register online before travelling to Basel.
Get familiar with the travel requirements for Switzerland and complete the entry form 48h before travelling.
To enter the Congress Center please have your Covid-19 certificate and your ID ready.
Registration is still open: https://www.abim.ch/registration.html and you can participate in two ways:
Either register and pay to attend the full programme, exhibition and networking as a live delegate.
OR
Register as a free virtual guest to participate remotely in the keynote speech, panel debate and Bernard Blum Award ceremony parts of the programme.
Register now to meet up with friends, colleagues and experts within the biocontrol industry for the first time in two years.
Looking forward to meeting you soon!
---
ABIM is only 1 month away
­The exiting news is ABIM 2021 will be a live event offering the chance to meet and network with other key players. Be sure to register now to be a part of this important event. There are a limited number of registrations available so make sure you are one of them.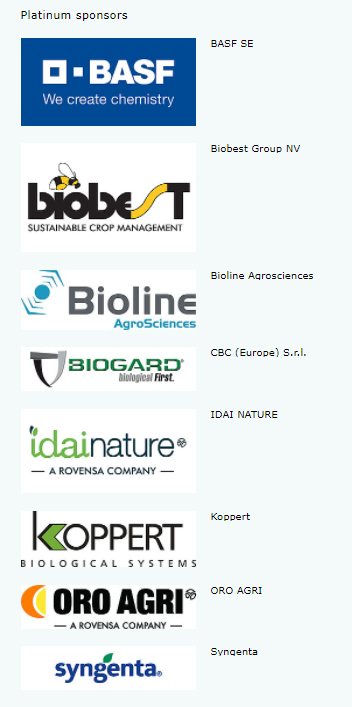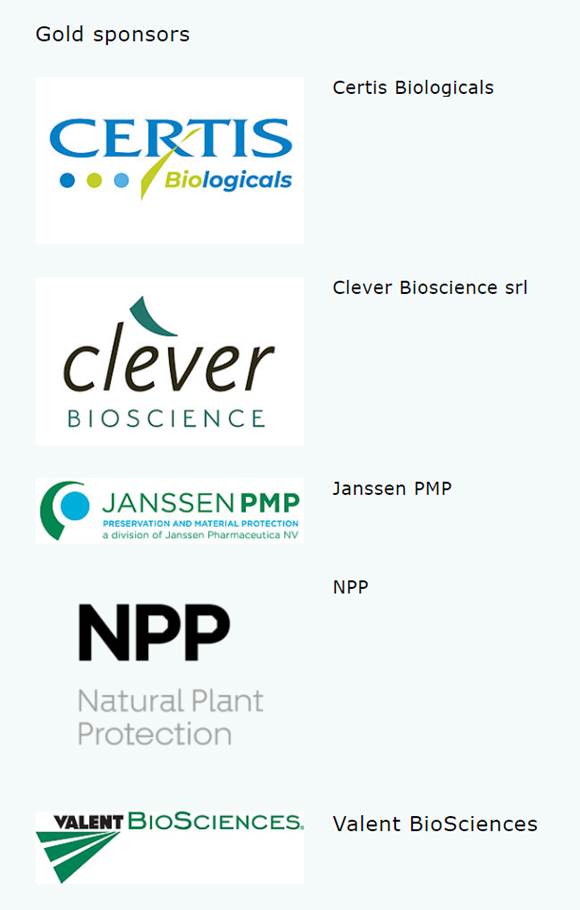 You can participate in two ways:
Either register and pay to attend the full programme, exhibition and networking as a live delegate from 19 to 20 October 2021 in Basel (no day passes available)
Register as a free virtual guest to participate remotely in the keynote speech, panel discussion and Bernard Blum Award ceremony. These parts of the programme will be live-streamed.
Please note that a Swiss or EU COVID-19 certificate will be required to access the conference, and that we will adhere to strict safety measures to protect our visitors, exhibitors, and staff. Please familiarize yourself with our COVID-19-related health and safety guidelines prior to your visit. Read the COVID-19 guidelines.
Confirm your pre-registration or register now to meet up with friends, colleagues and experts within the biocontrol industry for the first time in two years.
ABIM looks forward to welcoming you to its 2021 conference in Basel. ­­
Don't miss this opportunity – Register now!
---
ABIM 2021 will be a Live Event in Basel!
You wanted it, you have it ! In fact, we are very pleased to confirm that ABIM 2021 will go ahead as a live event in Basel on the 19th & 20th October including all networking opportunities and the exhibition.
For pre-registered delegates and exhibitors privileged confirmation of registration and payment of the conference fees will be possible from the 7th September 2021.
Pre-registered IBMA members will receive the discount code from the IBMA secretariat in due time to facilitate the discount.
Registration and payment will open to all on the 17th September 2021 but will remain open only while available places remain.
For those unable to attend the physical conference, free registration for the live-streamed keynote speech, panel discussion and Bernard Blum Award ceremony will also open on 17 September 2021
---
ABIM 2021 – back again as a live exhibition and networking event. Please note that this is subject to conditions being suitable to hold live trade fairs and exhibitions and sufficient pre-registrations being received by end of booking period.You can see the exciting compact programme which offers something for each and every member of our industry and those interacting with it.
Registration for sponsors and exhibitors was opened first and we are experiencing strong interest from companies wishing to support the event in both forms. The registration for delegates is open from today on for seven weeks only and will close at the end of August. It is available only online in the form of a binding pre-registration.
Registrations are accepted on a first-come, first-served basis. It is important that delegates understand that they are committing to attend ABIM this year and will need to complete a pre-registration now and again when the event is confirmed in September as proceeding in the live format. You will not be asked to pay just yet but when you confirm your booking in September. Should it be deemed that due to legal conditions or indeed a lack of confidence from you of being able to attend reflected through a lack of bookings we will transfer your registration to a free TV-style newsreel event which will be livestreamed during ABIM.
Please note that a Covid certificate will be required to access the Congress Center. Only people who can prove that they (1) have been fully vaccinated, (2) have recovered from a Covid infection or (3) have been tested negative will be admitted to the event. Validity of the Covid certificate (last updated on 23 June 2021) means:
For vaccinated people, the administration of the last vaccine dose is within 365 days.
For recovered people, validity starts on the 11th day following the last positive PCR test result and lasts for 180 days from this test result.
For people tested negative, from either a PCR test within 72 hours of the sample being taken or a rapid antigen test within 48 hours of the sample being taken.
As we are operating a short and limited registration period, no early-bird entries are available this year. Additional single day tickets may be made available at a later date.
IBMA members must submit the IBMA discount code when confirming their registration in September. This code will be sent by the IBMA secretariat – to the Members who have paid their fees – and is needed to receive a discount. For all matters related to IBMA Membership, please do not hesitate to contact IBMA Advocacy and Communication Manager Isabelle Pinzauti Babrzynski isabelle.pinzauti@ibma-global.org / 0032 497 69 58 42
For all other matters please contact ABIM Conference Secretaries Anne Merz and Roberta Turoldo Kyburz conference@abim.ch
The ABIM Executive Board encourages you to book your transport and accommodation on a fully changeable or refundable basis should we be unable to go ahead with the event.
---
ABIM 2021 promises to live up to the well-deserved title of ABIM – The Biocontrol Industry Meeting Place.
We plan to host ABIM 2021 as one of the first events to go back to a live format. We have a new television style newsreel event being shown live over the days of ABIM and available for download afterwards featuring informative video clips, a highly interesting keynote speaker, panel discussions on three relevant industry topics. For ABIM 2021 we have many new features including a freshly launched new website. We will be keeping the sponsors, exhibitors and delegates well informed as we want ABIM 2021 to be a safe event to attend and to create an atmosphere to encourage the networking ABIM is famous for. There are several things we are doing to ensure this:
We are keeping connected to government advice and liaising with the Congress Center Basel regularly.
The number of exhibition stands is limited and available on a first come first served basis. The size and type of stand will be a single standard booth enabling us to move the stands and reconfigure the exhibition area as needed to ensure a safe compliant event.
ABIM 2021 will be a 2-day event on Tuesday 19th and Wednesday 20th October. This enables you to travel on the Monday.
The main priority for ABIM 2021 will be to host a concurrent live networking event and an international TV-style newsreel for the industry and for reaching relevant key partners.
Sponsors can arrange their sponsorship from now on: Sponsor registration
Exhibitors can book a booth at ABIM 2021 now and will not be invoiced until we get the full go ahead: Exhibitor registration
Delegates will have a short sharp booking period from mid-July to the end of August to book a place at live ABIM.